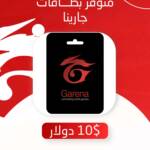 Garena Prepaid Card 10$
€9.00
GARENA PRE-PAID CARD (CODE ONLY)
It's available for all your favourite games ect : League of Legends (LoL), Blackshot , Point Blank, Path of Exile, FIFA Online, Mstar Online, Heroes of Newerth.
Description
GARENA PRE-PAID CARD (CODE ONLY)
ABOUT FREE FIRE DIAMOND PINS (GARENA)
Free Fire (Garena) is the ultimate survival shooter game available on mobile. Each 10-minute game places you on a remote island where you are pit against 49 other players, all seeking survival.
Players freely choose their starting point with their parachute, and aim to stay in the safe zone for as long as possible. Drive vehicles to explore the vast map, hide in trenches, or become invisible by proning under grass. Ambush, snipe, survive, there is only one goal: to survive and become the apex of them all. Buy Free Fire Diamond Pins (Garena) via MizooShop now!
HOW TO REDEEM FREE FIRE DIAMOND PINS (GARENA)?
1. Go to shop2game.com
2. Choose Free Fire and log in to your Free Fire account
3. Choose Garena Voucher channel
4. Enter the code printed on the receipt