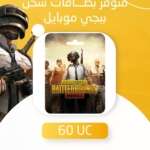 PUBG Mobile 60 UC
€0.83
PlayerUnkown's Battlegrounds (PUBG) is a gaming industry giant of the modern generation, that's singlehandedly responsible for initializing the massive popularity of the entire Battle Royale genre. In 2018, Tencent Games released the PUBG Corporation game for mobile devices such as Android or iOS systems. Users can download the game completely free of charge, however, if you want to make the most out of your experience, you should buy PUBG Mobile 60 UC redeem code!
HOW TO REDEEM PUBG MOBILE UC (GLOBAL)?
1. Login to your account at Midasbuy.
2. Access the "PUBG Mobile game credit top-up" page, and enter your PUBG Mobile player ID. Please enter your Player ID correctly to avoid UC top-up delay.
Description
Obtain UC – PUBG Mobile awaits!
redeem site is:
https://www.midasbuy.com/midasbuy/ot/redeem/pubgm
Without question, PlayerUnkown's Battlegrounds for Android and iOS can be considered a pinnacle of mobile shooters. It's hard to find an online action game mobile port that's accustomed to user comfort to this margin! Shooting, looting, cooperating, and surviving in a battle between 100 players on a shrinking battlefield is just as engaging playing PUBG on mobile as it is on PC or consoles. The experience is further enhanced with Unknown Cash (UC) PUBG virtual currency that you can spend on awesome in-game purchases that personalize the game! Buy PUBG Mobile 60 UC redeem code to reap the benefits!